Dr. Debbie van der Burg
On 11 July 2023, Debbie van der Burg successfully defended her thesis entitled "Capillary Electrophoresis in Process Analytical Technology - Monitoring of biopharmaceutical cultivation processes". Debbie joined Kantisto October 2018 and worked fulltime on the Horizon 2020 IMI iConsensus project, while stationed at Byondis in Nijmegen. In November 2021, she moved to the Royal Technical University of Stockholm, KTH, to finish her iConsensus work. She currently works for MPYA Sci & Tech in Sweden.
In her thesis, Debbie provides an overview of capillary and microchip electrophoresis (CE resp. MCE) applications in the biopharmaceutical industry and focuses on the development of (M)CE applications for upstream process monitoring. Four methods were successfully developed for the monitoring of nutrients (mono- and disaccharides and vitamins) and for mAb concentration. The methods were developed to enable automation; they are robust and facilitate rapid analysis with minimal sample preparation requirements. The vitamins and mAb methods require no sample pretreatment or only a simple (automated) dilution. The saccharide method requires fluorescent derivatisation, which was developed to allow for automation in a closed system. Method optimisation with Design of Experiments optimised all significant factors simultaneously, reducing the number of experiments required. It provided information on the relationship between the tested factors and the response over the design space, including information on the influence of or the interaction between factors. To allow transfer from conventional CE to microchip CE (MCE), the CE methods were developed on capillaries with short effective lengths, similar to the separation length on chip. Additionally, fused silica chips were selected, as their surface chemistry is similar to fused silica capillaries commonly used for conventional CE. The method for saccharides was successfully transferred to MCE and the method for mAb concentration monitoring is ready for transfer to MCE. All developed methods show good potential for integration in the automated monitoring platform as well as for use as stand-alone PAT tools.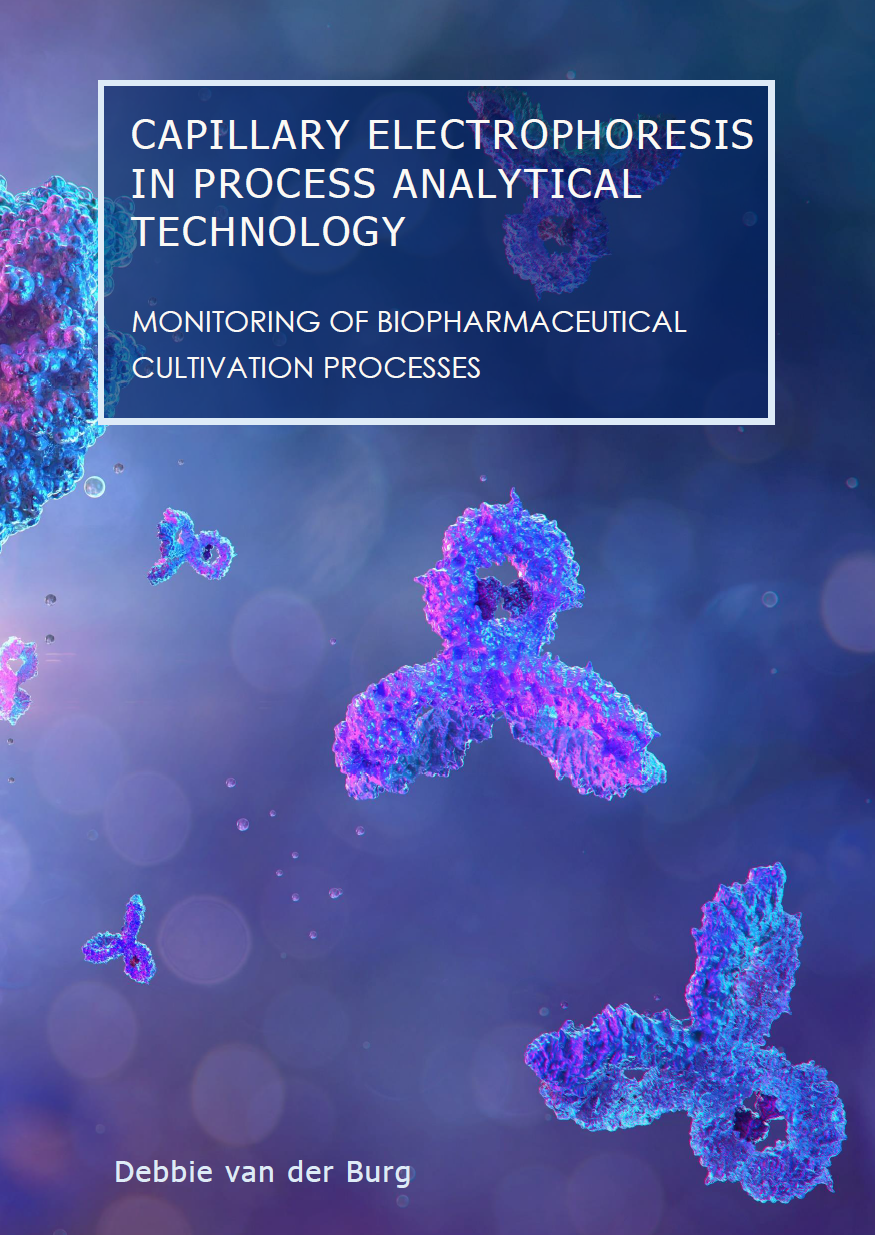 Integrated control and sensing platform for biopharmaceutical cultivation process high-throughput development and production
Animal cell technology is now widely used in the development and manufacture of biopharmaceuticals, vaccines and advanced therapies. The quality of the cell culture determines the quality of the final product. The aim of iConsensus is to develop innovative analytical, hardware, software and high-throughput tools in order to achieve a faster, safer and more cost-effective process for the development and manufacture of biopharmaceutical products.
Innovative Medicines Initiative (IMI) is a unique public-private partnership between the European Union and the European pharmaceutical industry that funds research projects based on direct industry needs. The iConsensus project is funded through the Innovative Medicines Initiative 2 (IMI2) Joint Undertaking and is listed under grant agreement No. 777397. This Joint Undertaking receives support from the European Union's Horizon 2020 Research and Innovation Programme and the European Federation of Pharmaceutical Industries and Associations (EFPIA). The IMI2 facilitates open collaboration in research to advance the development of, and accelerate patient access to, personalised medicines for the health and wellbeing of all, especially in areas of unmet medical need.
Biopharmaceuticals, vaccines and advanced therapies are becoming increasingly important in providing therapeutic solutions to patients. With the higher complexity and production cost associated to these therapies, efficient and safe bio-production is important to facilitate the implementation and use of biopharmaceuticals. Therefore, the European Animal Cell Culture Industrial Platform ACTIP raised awareness within EFPIA companies and the European Commission to initiate a call to change the way these therapies are produced. This resulted in the iConsensus consortium which aims at achieving a safer, faster and more cost-effective process for the production of a wide range of biopharmaceuticals.
In different work packages the project will develop in the next four years modular monitoring tools for real-time detection of physical factors, reagents and immunoglobulin G quality attributes in a bioreactor, a monitoring information database, modelling tools allowing efficient feedback control of the cultivation process, and new high-throughput production processes by high-performance parallel bioreactors. A relevant part of the project is the evaluation of industrial applicability of the tools and database for use in a good manufacturing practice (GMP) environment, relevant for industrial production processes based on animal cells.
Kantisto's activities will be focusing on the development of a CE chip-platform together with partners Kungliga Tekniska Högskolan, Micronit Microtechnologies and Synthon.
Dr. Véronique Chotteau from the KTH Stockholm, representing the academic Coordinator of iConsensus, sees a unique opportunity in this project: "This is a fantastic opportunity to improve the manufacturing processes of biologics, both in the development process and in manufacturing. We will create access to real time information of the culture process that I, and all in the field, have dreamed of. This will be complemented by tools to exploit this information. This will provide a fastest and higher quality process development, as well as more robust and efficient manufacturing processes."
Dr. Luc Kupers, the scientific project-leader for Sanofi and former chairman of ACTIP confirms: "This project represents an excellent opportunity for Academia and SMEs to bring innovation into the manufacturing of biopharmaceuticals.  It will assist with better understanding of how bioprocesses impact the cell and protein quality and address the need for 'easy-to-use' and fast and predictive tools for production. The end result will be to enhance supply chain reliability, consistency and cost effectiveness in the delivery of therapies to patients."
Project partners
Universities and SMEs
Kungliga Tekniska Högskolan KTH Stockholm, Sweden
Université de Mons, Belgium
Presens Precision Sensing GmbH, Germany
m2p-labs GmbH, Germany
Universität Hohenheim, Germany
Ipratech s.a, Belgium
Kantisto B.V., Netherlands
Iprasense SAS, France
RWTH Aachen University, Germany
Micronit Microtechnologies B.V., Netherlands
PAIA Biotech GmbH, Germany
Svanholm.com ApS, Denmark
EFPIA companies
Sanofi-Aventis Deutschland GmbH, Germany
Rentschler Biopharma SE, Germany
Bayer Aktiengesellschaft, Germany
GlaxoSmithKline Research & Development Ltd, United Kingdom
Synthon Biopharmaceuticals B.V., Netherlands
Pfizer Ltd., United Kingdom
UCB Biopharma SPRL, Belgium